Welcome to the Home Page of EZ Dock Gulf Coast
EZ Dock Gulf Coast Serves the entire gulf coast area
The first dock of its kind, the last dock you will ever need.
EZ Docks are nearly indestructible and have a long list of accessories to customize the docks to fit your business or home.
Why EZ Dock?
EZ Dock is a pioneer in the industry for environmentally friendly, hurricane rated, lifetime docks. To find out more about the advantages of EZ Docks visit
this page
.
Become an EZ Dock Dealer
EZ Dock Gulf Coast is actively looking for new dealers to represent our best of class dock products. Please
contact us
for more information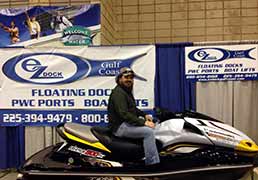 Martin from Duck Dynasty visits the Southern Louisana Boat Show
The biggest 3 day Boat and RV Show
See 49 Brands of Boats & 110 Brands of RVs plus Jet Skis and a vast array of the latest and greatest products that you can touch and feel in one easy-to-shop and compare location! The entire Civic Center packed with your favorite equipment and products make this one of the Largest Boat & RV Shows and Sales on the Gulf Coast! Over 100,000 sq. ft. of the latest Boats and RVs plus Jet Skis, Resort Information, Guides, ATVs, Fishing Tackle plus Much More!
Read more about the boat show
here
.
News and Events at EZ Dock Gulf Coast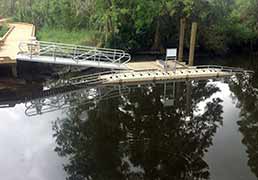 NASA Installation
On the Pearl River in Mississippi…
The dock system is located approximatly 1/2 mile through the woods, on the Heritage Trail, which made the job a little more challenging. The Kayak Launch is located just off the Pearl River, which now provides access to some great fishing and paddling spots.
A Happy Town!
Swedesboro NJ loves our docks…
Swedesboro is revitalizing their local Lake Narriticon Park to encourage more residents to take advantage of this beautiful asset. View their site and
write-up
.
Featured Products
Pontoon Lift
EZ Dock introduces a lift for Pontoon Boats…
The Model PL2000 is for pontoon boats up to 2000 lbs, Model PL3500 for pontoons boats up to 3500 lbs. This system offers a unique drive-on solution for pontoon boats.
Boat Port
Drive on, drive off, what could be easier…
The Boat Port™ comes standard with two keel rollers and two rear wear plates, with many alternate configuration options for larger and heavier boats. The Boat Port™ is an excellent choice for flat bottom, V-hull, or jet boats.
Accessories, Catalogs, Motor Sports and Water Sports