Residential Applications
Spend more time enjoying your docks...
Imagine spending every afternoon reading a book or just taking in the view from your EZ Dock. With residential waterfront ownership becoming ever so popular, make the most of your space with a custom designed dock system from EZ Dock, and increase your realm of waterfront enjoyment today! Designed for ease of maintenance, EZ Dock residential boat docks, boat lifts, and dock accessories offer endless design possibilities for your specific waterfront property.
The EZ Dock design team knows how you like to spend your free time and will help you with everything from designing your dock system to installing it. The EZ Dock system can help you create any dock layout from a simple community floating dry dock system or walkway, to a complex network of floating drive on docks for personal watercraft.
Other dock products that EZ Dock has to offer are: slides, benches, dock boxes, bumpers, and other items that will make the most of your residential waterfront property.
Family Boating
EZ Dock for Family Boating
The family boater has unique boating needs. Parents, grandparents and children alike all need easy access to the boat or personal watercraft for boarding, fueling, maintenance and covering. The EZ Dock drive-on boat lifts, Waverunner docks and PWC floating docks, as well as the EZ Dock floating walkways provide all those conveniences and more.
For the family boater, the EZ Dock acts as their ideal watercraft management system, providing dry-docking, walk-around room, access at water's level, and safe boarding and disembarkation. And since not every member of the family has the experience of a sea captain, all EZ Dock systems are designed to be used by one person, of average strength, by themselves at any time. This is a ideal for the family that has more to do than spend the weekend at the boat ramps or battling with a mechanical lifting device.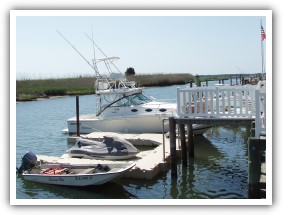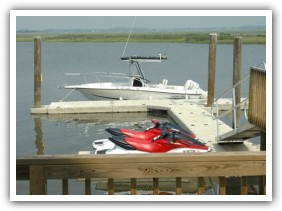 The EZ Dock floating walkway docks are also ideal for the family boater and can be connected to your sea doo dock or pwc floating dock. Soft, cool, beige-colored modules are splinter-free and contain no wood, metal or rusting hardware. The portable, modular and infinitely changeable design means your EZ Dock floating docks will grow with the ever-changing needs of your family. The Lifetime Warranty means your EZ Dock will grow with the children, serve the parents well into retirement, and be passed down through the family for years to come -- truly an investment in a lifetime marine building block!
Fishing Enthusiast
EZ Dock for the Fishing Enthusiast
To get the best use of your fishing boat and equipment, you need instant access for boarding, loading, launching, dry-docking, cleaning, maintaining and covering. These needs are ideally satisfied by fishing boat lifts and flats boat lifts by EZ Dock. You'll spend less time getting your boat in and out of the water, and more time using it.
And walk-around access means you can load and unload your gear, coolers, ice and catch of the day without breaking your back - then have complete walk-around access to your boat to clean up in! Do not allow chronic water storage to foul your rig - get an EZ Dock!
When considering a dock for either fishing or cleaning fish what could be better than a dock which can be easily cleaned with no residual "fishy" smell - a stable dock with a fish cleaning station, water supply, and cleats to secure your boat.
Since the modular dock system can take any shape you can easily begin with a dock configuration with fingers, railings, and many accessories which can be changed completely to another dock configuration should your requirements change (larger boat, smaller boat, an additional boat, new accessories like a bench, dock box, kayak rack, etc.)
Mouse over left or right side of image for navigation
or choose options in the bottom bar.
Residential Developers
Residential Developers Use EZ Dock
EZ Dock - the Perfect Neighbor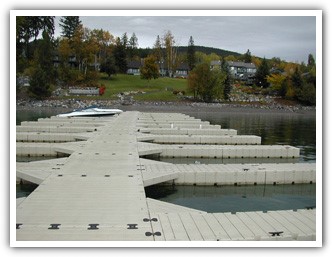 Today there is more property development than ever. There is also more awareness for environmental impact, especially on waterfront development.
More than ever, EZ Dock is becoming the chosen supplier for waterfront developments because of the eco-friendly materials.
The cool-to-the-touch light beige color makes it EZ for light to penetrate and still be able to provide food for animal life that exist in such areas.
EZ Dock is also not a permanent structure so if you need to remove sections or the entire dock for any reason in the future, you can do so.
EZ Dock is the perfect choice for condo associations, common areas for neighborhoods, retirement communities, town-homes, or anywhere there is a need for docks, slips, boat or PWC lifts, or just a meeting place on the water for that relaxed Zen feeling in the neighborhood. Go ahead and create a paradise for future homeowners - EZ Dock will help you.